COVID-19 Emergency Assistance
"As well as urgently tackling the pandemic at hand, we need to build a global system that deals with problems before they turn into catastrophes." - António Guterres, the ninth Secretary-General of the United Nations
The pandemic ravaged the world in 2020. The people that are impacted the most and the hardest are always the most vulnerable people, especially those in the developing countries. The families and children faced the risks of diseases arising from even worse public health conditions than they already had and the response measures taken by the governments worldwide. The operations and service provisions at the overseas branch offices of TFCF suffered much as a result. To ensure that the supported overseas families and communities could still access necessary resources and services, we upheld the principles of "locality" and "appropriateness" and adjusted our work strategies, changing our ways of service delivery and contents of supplies. Furthermore, we introduced 19 new partners, working with professional institutions across different fields to offer more appropriate services to the children and families internationally.
※ Food Delivered
In developing countries, food security has been a grave issue. Especially in rural areas, the means to food ingredients are limited while the prices fluctuated hugely. The families in poverty could only afford food ingredients in the most economical way, which results in an ill-balanced nutrition intake in children. This situation is worsened by the COVID-19 pandemic when many of the families' breadwinners lost their jobs and are ordered by the government to stay at home to stop the spread of the virus. TFCF saw the emergency immediately and responded quickly. In total, across 7 countries, we handed out over 118 thousand kilograms of whole grains, 17 thousand liters of dairy, 7 thousand liters of oil and nuts, 18 thousand kilograms of protein resources, 519 kilograms of vegetables, and 49 kilograms of fruits.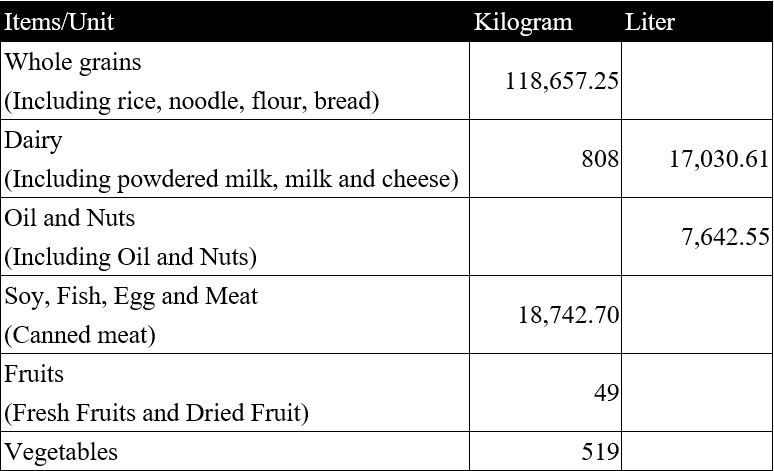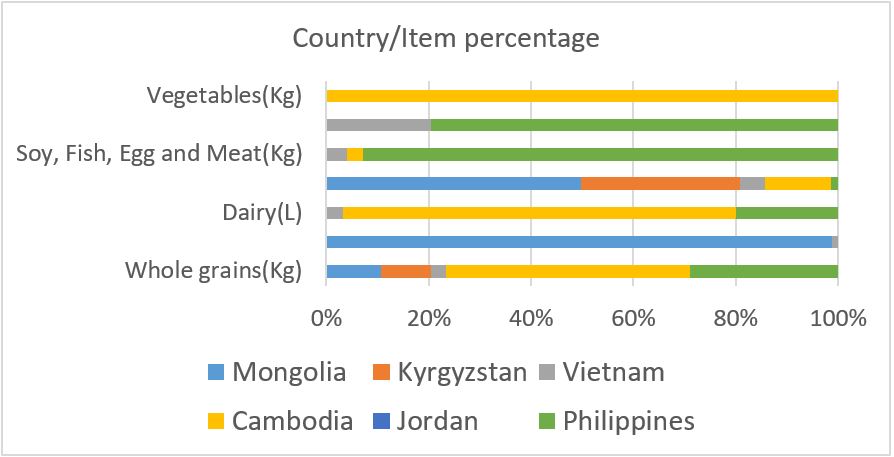 ※ Goods Delivered
Daily Necessities
The daily expenses, such as bills for water and electricity, food, house rent, and tuition fees for children, are major sources of stress to families under the poverty line, Thus, monthly subsidies in cash or kind are provided, so that these families could catch their breath under the immense economic stress. During 2020, we identified the essential items that for survival as well as combating the coronavirus. In total, we gave out over 3 thousand and 7 hundred kilograms of soap, 184 tons of coal, 447 liters of disinfecting bleach, and 670 packages of paper napkins.


Medical Equipment
Medical equipment, such as masks and gloves that seems common in our lives isn't necessarily so for our supporting families. The COVID-19 pandemic has shed light on how essential this medical equipment is in combating the contagious virus. TFCF saw the lack of medical equipment readily available in the countries that we are working in and responded by giving out equipment to those who needed it the most. In total, we gave out over 45 thousand pieces of masks, 250 personal protective equipment, 26 hundred liter of disinfectant, 783 pairs of gloves, and 53 pieces of forehead thermometers.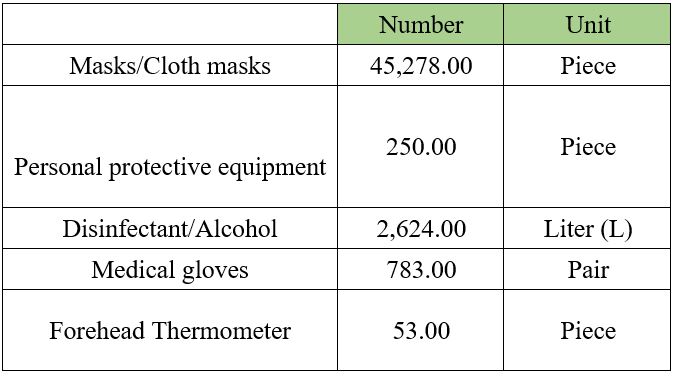 ※ Public Health Education
The COVID-19 pandemic exposes how unequal and vulnerable our global health care system is, the unequal distribution of health resources resulted in the lack of health education in many parts of the world. As a result, those countries without adequate health care systems and health education suffer the most during this global pandemic. In combating that, TFCF offices around the world responded by connecting local organizations in their respective countries, in order to distribute education as local and as wide as possible. In total, we held almost 60 sessions, over 460 hours, and reached over 85 hundred people. All during the height of the pandemic and strict lockdown policy imposed in some of the countries.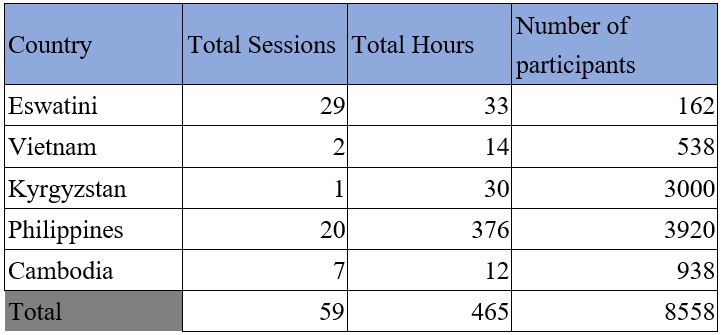 ※ Global Emergency Response
In addition to helping families whom we served directly, TFCF is also dedicated to helping those affected by the COVID-19 pandemic around the globe. We work with organizations such as ChildFund International and Children Believe to deliver love from Taiwanese people to countries where we don't have offices.
ChildFund International
June 1 – June 30, 2020
ChildFund Philippines's COVID-19 Response Program
TFCF with the help of ChildFund Philippines supported 550 out of 2,481 families with a direct cash grant amounting to PHP 550 (USD 11) for a month. The conditional cash grant was used by the families to purchase food supplies across 13 barangays (villages).
June 2021 – Current
India COVID-19 (2nd Wave) Response Plan
TFCF participated in the continuing joint effort with our ChildFund International partners to respond to the dire pandemic situation in India since April 2021. The work was aimed at strengthening the health care system, the vaccination campaigns, and providing relief support to children and families who were affected by the pandemic. The total amount of people who are supported is around 1 million, while around 10 million people would be benefited indirectly.
July – August 2021
Covid19 Obstetric Ward Facility and Doffing Area in Galmuruwa Divisional Hospital.
TFCF worked with ChildFund Sri Lanka in providing obstetric facilities for treating Covid infected pregnant women in the Puttalam district as well as a designated doffing area for the health care workers to change/dispose of their personnel protective equipment safely and effectively. The newly built health facility can support 40 pregnant women in the area each month, while 15 healthcare workers could be benefited from the doffing area.
Children Believe
June ­– August 2021
Children Believe India COVID Second Wave Response
TFCF worked with Children Believe India to fulfill the food security needs of 5,000 families for 2 months, providing hygiene kits to 10,000 people in 100 communities, providing oximeter and thermometers in 100 communities, and supporting the health system by supplying medicines across 2 southern states of India.
If you want to support our work, you can join us here.