Watching Their House Burned to Ashes: A Story of Reborn in Philippines
The Big Fire in 2019
Gretchen is a mother of five children, she lived in a temporary apartment in the 22nd block of the Addition Hills in Mandaluyong and supported her family by running a grocery store. Gretchen's husband Mr. C and father Mr. N were both tricycle drivers and were the main breadwinners of their family. Gretchen's mother, Mrs. E, 64, was selling banana chips in front of their house but had to stop for she was diagnosed with rheumatic disease in October 2020.
In the afternoon of February 24, 2019, Gretchen and her daughter Kim went to a tailor store in the market, ready to buy a girl scout uniform for Kim as well as some food in the market on the way, so that Kim could bring them with her to the camping event at her school.
However, shocking news came to Gretchen that suddenly cast a shadow on her peaceful and quiet afternoon. Around 4 pm, neighbors risked their lives running into Gretchen and Kim's home, dragging some of their stuff away from the house on fire. Later, Mrs. E also tried to run into the house to try to rescue more necessities.
But the fire came strong and quick, it became uncontrollable with a blink of an eye. For their safety, the firefighters prohibited them from going into their house, and put up a security line around there and the neighbors' houses. They could only watch their houses and items being burned to ashes with their own eyes.
Having been ordered by Gretchen, Kim accompanied her younger siblings at the outset of the fire, fearing they could be out of her eyesight while worrying about her mother who's pacing in front of their house. Kim told our social worker Gab that she was so traumatized and sad that she couldn't stop her tears and could only hold her 4 siblings while crying in front of their burning house.
Temporary living space in 2020
Around 8:30 pm that day, they were brought by the district office workers to the evacuation zone in Botanical Garden in Addition Hills and started their 6 months living there. Gretchen, her husband, mother, father, and the baby in her stomach, in total 10 people lived in two tents.
Kim's study was impacted greatly, the day after the fire, Kim didn't show up at school like usual. The teacher paid attention to the situation at her house and prepared some school supplies, such as a school bag, notebooks, pen, and uniforms for her. Even though there's no suitable place for her to study in the tents, Kim still worked extremely hard through difficulties.
In their fifth month there, they were asked to leave by August 2018. After that, they were asked to move to the rear of the Mandaluyong City Medical Center. They stayed there for about 9 months, and because they didn't have enough money, they lived in a temporary place built with a tarp, sleeping pad, cheap wood, and zinc sheet metal with a floor that barely covered the mud ground.
Gretchen shared her stories with us while sobbing, both of her youngest children's toes were once bitten by mice. On top of that, they also had to worry their thin wall would be shot through with bullets from their drug-addicted neighbors. Moreover, the rain was also a huge problem for them, their cheap sheet metal roof was not able to protect them from the rain effectively.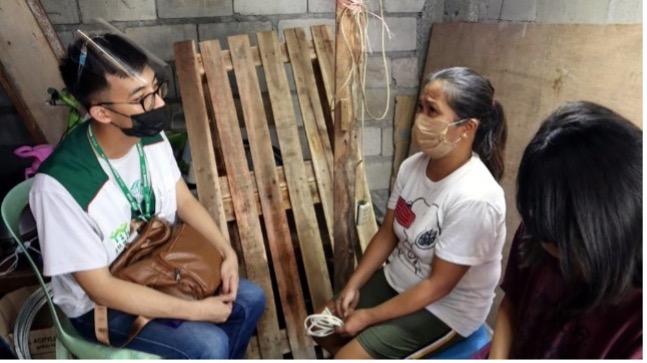 TFCF Philippines Branch Office's intervention
With the introduction from one of our social workers Monica, Gretchen and the family officially became one of our supporting families in June 2020. In October 2020, the local block association finally granted Gretchen's families a piece of land to build their house on. This was wonderful news to the Gretchen family because the area was closed to the checkpoint of the community patrol, which provided them with some living protection. However, they were still unable to purchase building materials of better quality and had to resort to sheet metal, tarp, woods, and bricks to build themselves an unstable house.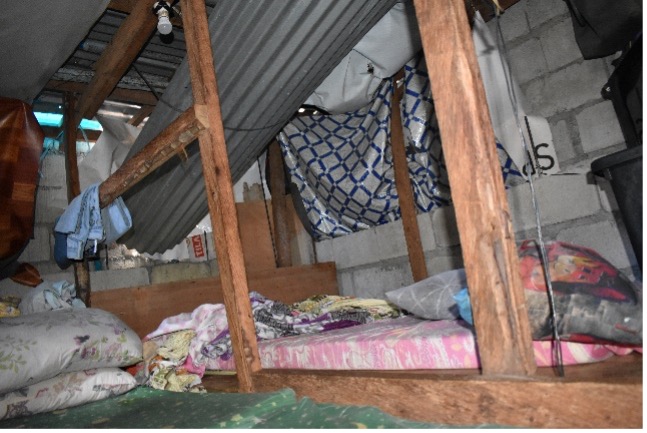 When the TFCF Philippines Branch Office heard about this, we immediately distributed an emergency relief fund to cover their costs of buying building materials. Their house had a second floor, which could be accessed with chairs and tables as stairs. Because the roof was still made with metal sheets, the rain could still come through it and pour inside. Furthermore, they even asked if they could use our event banner to cover their house to create some privacy.
A new house built in 2021
On March 23, 2021, Gab, the social worker who's responsible for the housing support program got in touch with Gretchen once again with the hope of assisting them with improving their housing quality. After two months of discussion, we finally got approval and assistance from the local block association to rebuild Gretchen's house on the land they owned. From June 10 to 11, the building materials finally got delivered to Gretchen's house, including rebars, cement, sand, bricks, and tiles, etc. The reconstruction process went smoothly, Gretchen actively contacted the construction workers which made the reconstruction even smoother. She even helped us find more families in the community who are in need and directed them to us.
To solve the leaking problem once and for all, we reinforced the structure of the floor for the second floor and used waterproof materials as a roof. When Gab went to visit Gretchen on June 25, she saw cemented stairs that connected the second floor, and Gretchen and her family were happy with tears and smiles.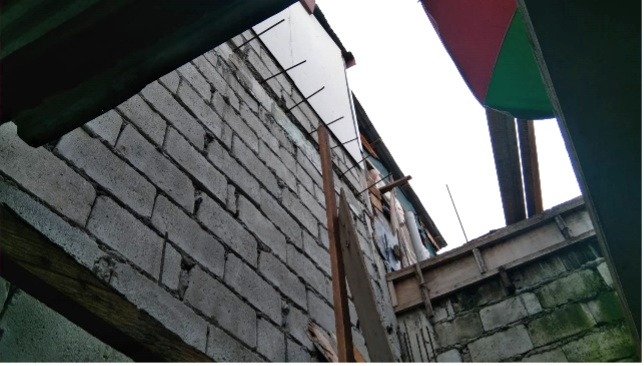 This reconstruction of their haven was completed in the middle of July. Gab was confident to tell Gretchen and her family that they were soon to see a "better, safer and more resilience home."
If you want to support our work in Phillippines, you can join us here.