Greetings from Chairman
Dear friends of Taiwan Fund for Children and Families,
Warmest greetings from Taiwan!
In 2020, we experienced a turbulent year. The COVID-19 pandemic was affecting the lives of everyone, and all of us were facing severe challenges and went through uneasy moments of life. Thank you for being there beside TFCF and letting us continue to serve and accompany every family and child in need. Thank you for being our silver lining for children and youth in Taiwan and foreign countries.
The coronavirus has been sweeping across the world, and vulnerable families bear the brunt of the crisis. In order to protect our assist families from the economic impact of COVID-19, we have launched the Covid-19 Project, including Learning Program and Parenting Plan in 24 domestic branches, and also provided COVID-19 prevention package and subsidy, health education and propaganda, community health system, and care support plan in 7 overseas branches.
This year marks the 70th anniversary of the founding of the Taiwan Fund for Children and Families who has started serving children and families in need in Taiwan since 1950. The beginning of TFCF was established by foreign benevolent funds and became fully independent in 1985, then started to support foreign countries in 1987. The accomplishments were made by all people who supported and donated to TFCF. Continue to deploy a cross-domain service, we were commissioned by Taichung City Government to establish the second Non-profit Kindergarten, "TFCF Yuxian Non-profit Kindergarten". It gives priority enrollment to children with economic disadvantage and allows young children to receive proper care and full educational opportunities. At the beginning of the cross-generational transmission in TFCF 70th Anniversary, we adhered to the commitment to help disadvantaged children and families and optimize the organizational identification system in order to enlarge the scope of our services and assist more children and youth in the world. We are going to build a better warm society in the next 70 years.
We will go on our two main leading programs, Livelihood Supports and Child Protection as TFCF core components. Giving full play to the influence of social workers, we extend services to remote areas in Taiwan and develop our international services. We provide domestic children and families with financial assistance, child protection, family treatment, and relatives/foster care/institutional placement service programs. There were 40,184 households and 75,293 persons who benefited in 2020. Over the past 70 years, TFCF has continued to write a new chapter in Taiwan's social welfare. With the economic transformation, the support program extends from helping the poor to helping the poor alleviate poverty. It is hoped that children and families in difficulties can break out of the cocoon and spread their wings to an endless future.
Sincerely,
Li-min Chao, Chairman
Board of Directors and Supervisors
Chairperson
Mr. Li-Min Chao
Managing Director of the Board
Mr. Ching-Fu Chen
Mr. Ping-Jung Liu
Mr. Wen-Hsuan Lin
Dr. Pang-Fu Liu
Director of the Board
Mr. Hsin-Tzu Chang
Dr. Li-Chen Cheng
Mr. Yung-Fa Lin
Mr. Kun-I Huang
Mr. Wen-Lung Hsiao
Ms. Pi-Yu Cheng
Mr. Te-Jen Sun
Dr. Mei-Kuei Yu
Managing Supervisor of the Board
Mr. Tsun-De Chen
Supervisor of the Board
Dr. Lillian Ren
Mr. Ming-Wen Tsai
Organization Structure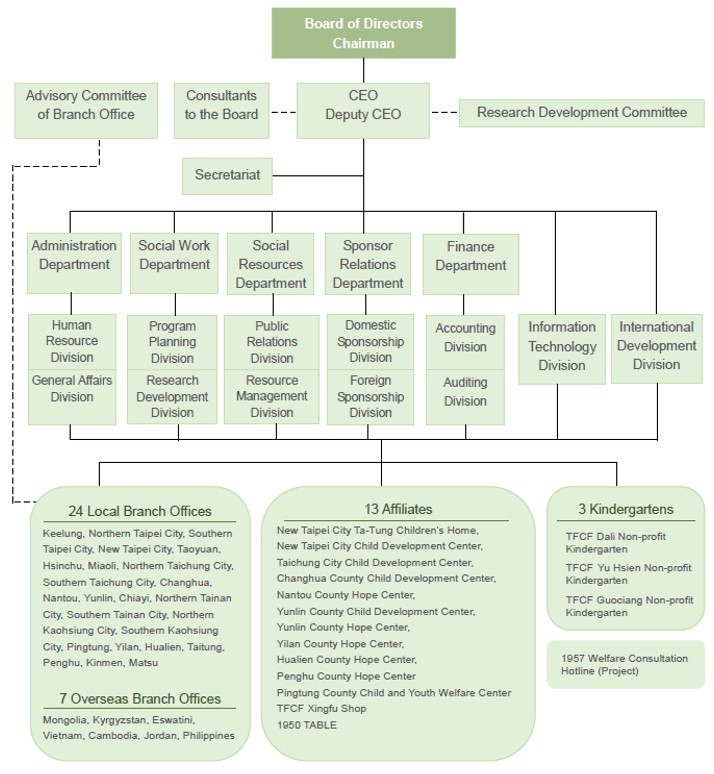 We established the first overseas branch office, TFCF Mongolia in 2004. Afterward, we established six more overseas branch offices in Kyrgyzstan (2012), Eswatini (2013), Vietnam (2014), Cambodia (2015), Jordan (2018), and Philippines (2019). We provide the profession of social work, bring Taiwan experience and keep on developing our services overseas.