Greetings from Chairman and CEO
Dear friends of Taiwan Fund for Children and Families,
Warmest greeting from Taiwan!
2019 has marked a successful year with proud achievements for us. We established Philippines Branch Office as our 7th oversea branch office. Up till the present moment, we have 31 branch offices and more than 1,600 staffs both home and abroad. As an international non-governmental organization, we adhere to the spirit of "Where there is a need, there is T.F.C.F.", devoting ourselves to bring more hope and happiness to the vulnerable children and families.
In 2019, we directly supported more than 31,000 children and their families to improve their lives in our overseas service countries, Mongolia, Kyrgyzstan, Cambodia, Vietnam, Eswatini, Jordan and Philippines. In addition to financial assistance, we have tried to develop more local and cultural projects and methods to make our service fulfill community's actual needs, such as "Livestock program" in Kyrgyzstan, "Agriculture Program" in Cambodia and the "Nutrition program" in Jordan. Furthermore, we held an international forum in Philippines, which was highly estimated by the attendances, to share and exchange knowledge and experience about "SDG4: Ensure inclusive and equitable quality education and promote lifelong learning opportunities for all" with other non-profit organizations. Besides, to ensure the accountability of non-profit organizations, we are not only the membership of Accountable Now but also join global crowdfunding community, Global Giving. All of these are aimed to provide better, and trustworthy services.
Based on the previous efforts, and the most important, your kindness and trust, we will continue to extend ourselves to support more children and families all over the world. Thank you and may joy and health be with you and your families!
Sincerely,
Li-min Chao, Chairman
Betty Su-Chiou Ho, Chief Executive Officer
Board of Directors
Standing Board Members
Mr. Ching-Fu Chen
Mr. Hsin-Tzu Chang
Mr. Ping-Jung Liu
Mr. Wen-Hsuan Lin
Board Members
Dr. Yu-Yuan Kuan
Dr. Lillian Ren
Dr. Li-Chen Cheng
Mr. Yung-Fa Lin
Dr. Pang-Fu Liu
Mr. Kun-I Huang
Mr. Ming-Wen Tsai
Mr. Tsun-De Chen
Mr. Chyong-Jia Lin
Mr. Wen-Lung Hsiao
Organization Structure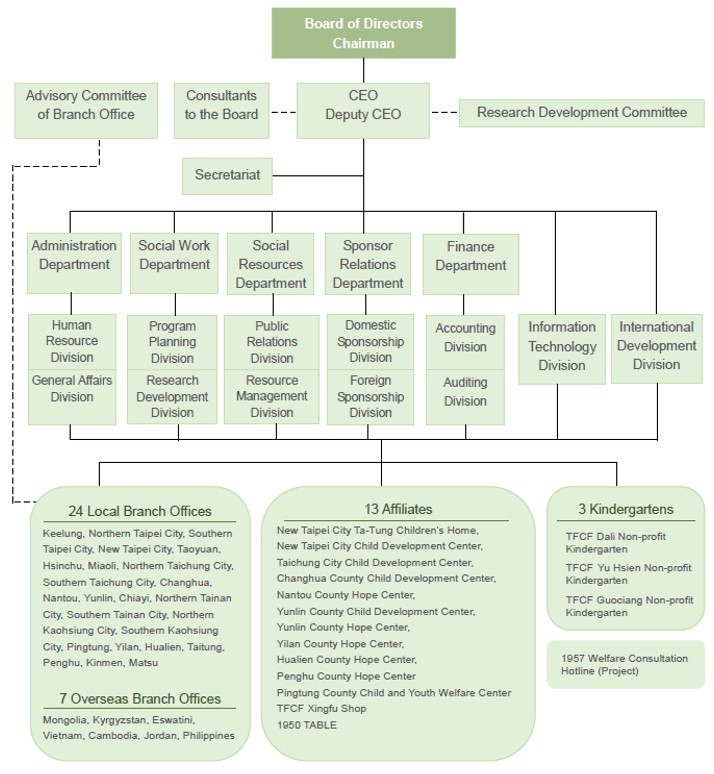 We established the first overseas branch office, TFCF Mongolia in 2004. Afterward, we established six more overseas branch offices in Kyrgyzstan (2012), Eswatini (2013), Vietnam (2014), Cambodia (2015), Jordan (2018), and Philippines (2019). We provide the profession of social work, bring Taiwan experience and keep on developing our services overseas.