Opening Ceremony of Taiwan Fund for Children and Families Overseas Branch Office in Vietnam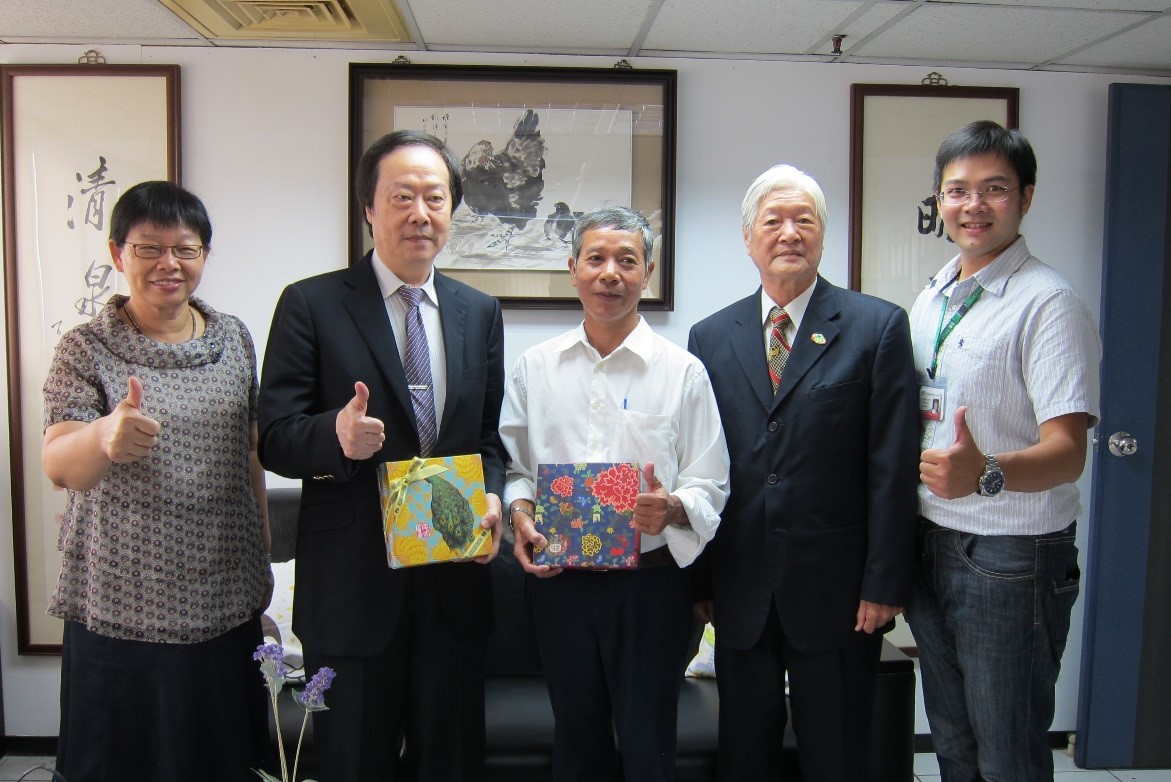 In mid-September, the Opening Ceremony of Taiwan Fund for Children and Families (TFCF) Overseas Branch Office was held in Ho Chi Minh City, Vietnam. It's the 4th overseas branch office of TFCF and was officially opened since TFCF has obtained the License of Operation Registration in Vietnam successfully which was issued by the Ministry of Foreign Affairs, Department of Foreign Affairs, Socialist Republic of Vietnam.
Afterwards, Ho Chi Minh City Union of Friendship Organizations (HUFO), Head of Section for INGO Affairs, Mr. Pham Minh Hong visited TFCF Headquarters and TFCF Taichung City Child Development Center on October 6th. He praised Taiwanese sponsors for their benevolence and support to Vietnam needy children.
TFCF Chairman, Mr. Li-Min Chao thanked Mr. Hong and HUFO for their assistance while TFCF applied the registration in Vietnam. "It's a big step forward for TFCF International Services." said Mr. Chao. He has delivered famous and typical Taiwanese tea and snacks to Mr. Hong as personal gifts. Mr. Chao has expressed that TFCF senior social workers have studied the poor condition in Vietnam and interacted closely with HUFO since 2014. When TFCF communicated with local government through effective coordination of Mr. Hong, it did help to overcome language barrier and unfamiliar regulations during the application period.
TFCF showed a sincere concern for needy children in the world and would like to help needy children in Vietnam as quickly as possible. With enthusiasm and willingness, TFCF has singed the Memorandum of Understanding with People's Committee of Cu Chi District and sponsored 576 children in Cu Chi District after received the License of Operation Registration in Vietnam. Through HUFO's relationship with more NGO partners, TFCF has collaborated with HCMC Red Cross, Ho Chi Minh City Association for the Support of the People with Disabilities and Orphans(HASPDO), HOC MON Center for Sponsoring Orphans and Street Children(CEPORER HOC MON), and Khanh Hoi Orphanage Center, and increased the sponsored the number of Vietnamese children up to 800. Mr. Chao has called on people to sponsor poor children in Vietnam who suffering of the Vietnam War. He made an urgent appeal to sponsors and was looking forward to recruiting children sponsors up to 1500 Vietnamese children by the end of this year.
Although Vietnam is not too far away from Taiwan, it is one of communist states and the country adheres most strictly to communist principles, and it took longer time to established TFCF branch office in Vietnam. By mid of September, the TFCF delegation including Standing Board Members, Ms. Hsiu-Fen Hsieh, and Mr. Hsin-Tzu Chang, Board member, Dr. Yu-Yuan Kuan and CEO, Betty Ho arrived Ho Chi Minh City and attended the opening ceremony of TFCF 4th Overseas Branch Office in Vietnam. Many honored guests presented during the opening ceremony including the Director-General of Taipei Economic and Cultural Office in Ho Chi Minh City, Liang, Kuang-Chung and the Deputy Chairman of HUFO, Mr. Phung Cong Dung and local NGO partners. People were expecting to see more Taiwanese sponsors could help children grow in Vietnam where there were 63 percentage of the population living below the international poverty lines (IPLs),
"Vietnamese children suffered from devastating effects of toxic herbicide sprayed by U.S. military forces 40 years ago and their health has been ravaged by the chemical." said Betty Ho. In addition, half a million children have been born with serious birth defects, while as many 2 million people were suffering from cancer or other illness caused by Agent Orange. The rapid economic growth occurred in Vietnam after the war, however, the government spent most of time and budget on war related and didn't have enough resources to care children. People should concern children's health issues including children suffering from severe malnutrition, having poor water, sanitation and hygiene, exposing to environmental odors.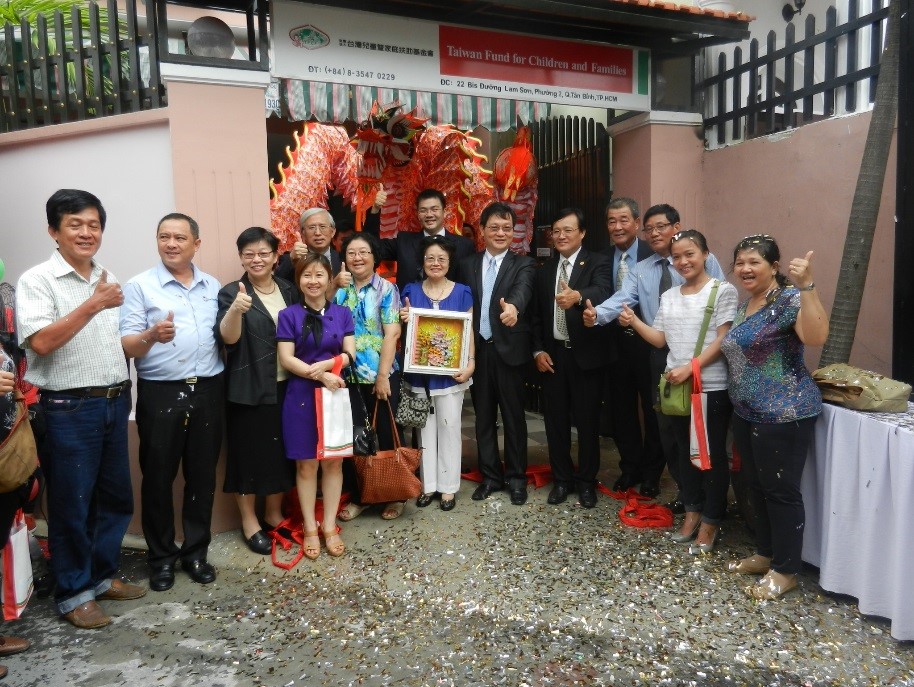 The Opening Ceremony of TFCF 4th overseas branch office was held in Ho Chi Minh City, Vietnam.
Nan Nan, grade 5, was born blind, and caused her difficulties with daily activities and learning problems. Nan's parents had to take care of her mostly and earned 183 USD monthly with low paid jobs, such as cleaners and porters. The case was referred to TFCF Vietnam through Association for Protection of Disabled People and Orphans, and Nan Nan has been one of TFCF sponsored children and received the support including Emergency Relief Fund and sponsorship on a monthly basis which may maintain a child's basic standard of living. The sponsorship program provided her nutritional supplements and educational supplies and hope Nan Nan may complete her studies even she has serious difficulty learning.
"Vietnam is TFCF 4th overseas branch office after Mongolia, Kyrgyzstan, and Swaziland established." said Ms. Betty Ho. There were many restrictions under communism while providing international assistance services in Vietnam. TFCF pursued a policy of goodwill in government relations by bringing 65 years' experience and skills in anti-poverty work and hiring 7 social workers locally. TFCF gained the trust of local government and partners who were delighted to welcome TFCF to participate the welfare services in Vietnam. The core services of TFCF Vietnam Branch Office are included improving living conditions, providing nutrition and education. TFCF is striving to provide minimum basic needs, nutritional supplements and educational resources for needy families, and encourage children to complete fundamental education. "TFCF is branching out into international services and it is our global goal to extend our services out of Taiwan. By changing a child's life, it will change the future of the world. I hope people together lend a helping hand, join our Children Sponsorship Program and support more children in the world. It costs only NT700 for a foreign child through TFCF and gives them a hope to change their lives and future." said Ms. Betty Ho.