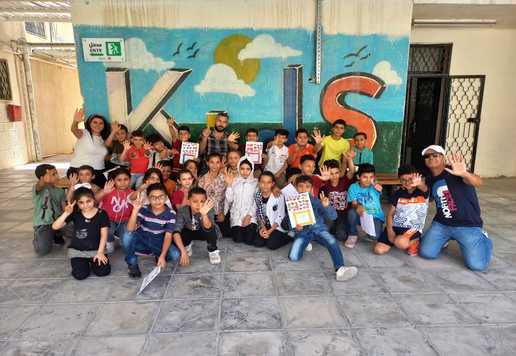 Jordan
Give a hand to vulnerable families in Jordan
Give Now Add to list
Why Jordan:

Jordan is a small country at the crossroads of the continents of Asia, Africa, and Europe. In 2011, the Syrian Civil War caused many people dead and be displaced. A considerable number of refugees fled to its neighboring countries as Turkey, Lebanon, and Jordan. Jordan has accommodated an exceeding 800 thousand refugees (UNICEF, 2019). The influx greatly influences Jordanian society and its citizens, especially vulnerable families, and children in various aspects (Alshoubaki et al, 2018).
Taiwan Fund for Children and Families Eswatini Branch Office (Jordan) was established in January 2018. It is the 6th overseas branch office of TFCF, it is also the first branch office in Middle-East. By far, TFCF is sponsoring about 1,800 children by cooperating with local community-based organizations (CBOs) in Jordan. We are conducting various programs to meet those vulnerable families' needs. Furthermore, TFCF Jordan is also running community sponsorship for supporting community development in two governorates, Irbid and Mafraq.
Our Aim:
To provide emergency food and nutrition to children and families in Jordan who are affected by the wars (both Jordanian and non-Jordanian) and living in poverty and struggling with food insecurity in our sponsored refugee camps, CBOs, and schools.
How We Help:
The idea of Projects - shelter support, educational support, clean water, and vocational training.
We had an interview with one of the kids and asked him, "What do you want to be when you grow up?" He replied with a shy smile and said hesitantly, "I don't know!" We just realized some Syrian refugee kids are living without dreams and hopes.
TFCF Jordan is planning to give a hand to Syrian families living in the camps away from public services. TFCF would like to assist in providing shelters instead of the tents they reside in for the time being, as they are not convenient to live in especially during the extreme winter and summer conditions.
We also consider supporting education for kids in the camp. Their distant location from schools prevented these kids from attending classes and dreaming about their future. Then, we realized the importance of delivering an inclusive service to this camp ranging from shelters, educational opportunities, clean water, green energy, and job opportunity generation.
What Your Donation Can Do:
Provide food supplies for one child

Support a community kitchen in CBOs

Provide capacity training for the child

Provide vocational training to vulnerable families
Your support can make a real difference in the lives of the children and families in Jordan. With your help, we can ensure they have access to the basic necessities needed for a healthy and hopeful future. Thank you for your generosity.