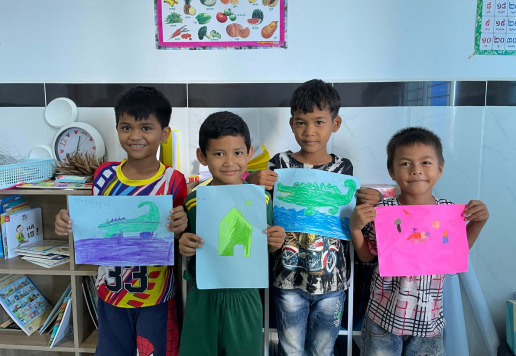 Cambodia
Let Angkor smile again - Support Children and Families in Cambodia
Give Now Add to list
Thank you for considering a donation to the Taiwan Fund for Children and Families (TFCF) Cambodia. By supporting TFCF Cambodia, you are making a positive impact on the lives of vulnerable children and families in Cambodia. Your contribution will help provide essential support, education, and opportunities for a brighter future.
About TFCF Cambodia
Cambodia is a country located in Southeast Asia as well as a lower riparian country. Although the economic growth rate in recent years is very high, the gap between the rich and the poor is getting wider and wider. The Angkor dynasty was once the largest kingdom in Southeast Asia, we hope that Cambodia's children can also smile again.
TFCF Cambodia is dedicated to improving the well-being of children and families facing challenges in Cambodia. With a focus on education, healthcare, social welfare, and community development, our branch office in Cambodia is committed to empowering individuals and communities.
Our Programs and Initiatives
Through our programs and initiatives, TFCF Cambodia aims to address the unique needs of children and families in Cambodia. Our initiatives include:
Education Support: We provide educational resources, scholarships, and school supplies to ensure that children have access to quality education and the opportunity to reach their full potential.
Healthcare and Nutrition: We work to improve healthcare access and promote healthy living among vulnerable communities. Our programs focus on providing medical support, healthcare supplies, nutrition education, and access to essential healthcare services.
Social Welfare and Community Development: We support community-driven projects that empower families and communities, including income-generating activities, vocational training, and capacity-building initiatives.
How Does Your Donation Make a Difference?
Your donation directly supports our programs and initiatives, enabling us to make a positive impact on the lives of vulnerable children and families in Cambodia. With your contribution, we can provide education, healthcare, and social support, giving hope and opportunities for a better future.
Donation Options
One-Time Donation: Make a one-time donation of any amount to support our programs and initiatives. Your contribution will have a lasting impact on the lives of vulnerable children and families in Cambodia.
Monthly Donation: Consider becoming a monthly donor and provide ongoing support to our programs. Monthly donations ensure sustained assistance and help us plan for long-term projects that benefit the community.
Support Us Now!
Click the button to make a secure online donation and support our work in Cambodia. Your generosity will contribute to creating positive change and improving the lives of vulnerable children and families.
Thank you for your generous support. Your donation to TFCF Cambodia will help us continue our mission of providing essential support, education, and opportunities to children and families in Cambodia. If you have any questions or need further information, please feel free to contact us by email: id@ccf.org.tw
More ways to make an impact