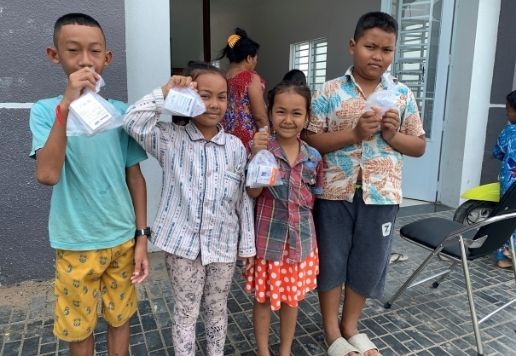 Cambodia
Let Angkor smile again
Give Now Add to list
Where are we helping?
Cambodia is a country located in Southeast Asia as well as a lower riparian country. Although the economic growth rate in recent years is very high, the gap between the rich and the poor is getting wider and wider. The Angkor dynasty was once the largest kingdom in Southeast Asia, we hope that Cambodia's children can also smile again.
Taiwan Fund for Children and Families Cambodia Branch Office (TFCF Cambodia) was established in 2015. We provide service to the needy people who live in Phnom Penh, Svay Rieng province, Kampong Speu Province. The main goal of TFCF is to help needy families and children with basic life needs, nutrition, education, medication, and vocational training, etc. We are sponsoring approximately 2,300 children in Cambodia.
How do we help?
According to SDG.3 Good Health and Well-being, physical health is one of the important criteria to maintain sustainable development. TFCF Cambodia works with our medical team and in the community, we have observed most families get the disease and they don't have enough resources and opportunity to go to the hospital to get treatment and medical care. According to the Sustainable Development goal in number 3 mentioned that we try to ensure healthy lives and promote well-being for all ages. "Health and Hygiene Support Program" provides not only medical care but provide training to families with good hygiene and avoid sickness. TFCF expects every sponsored family and child we support can access the health service of having a better life.
We provide medical treatment to over 500 families in 2020, and we are not only holding it in the sum locate in Phnom Penh but go to other provinces and rural areas to take care of more needy families. Please support us to let more needy families in Cambodia have the opportunity to get health care and grow up healthy.
"Your act makes changes! Welcome to join us"
More ways to make an impact