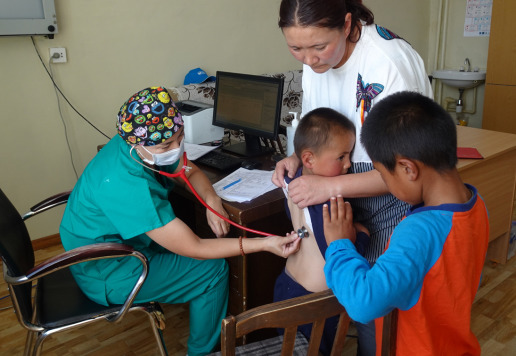 Mongolia
Providing resources for remote areas in Mongolia
Give Now Add to list
Thank you for considering a donation to the Taiwan Fund for Children and Families (TFCF) Mongolia. Your contribution will make a meaningful impact on the lives of children and families in Mongolia. By supporting TFCF Mongolia, you are helping us provide essential support, education, and opportunities to vulnerable individuals and communities.
About TFCF Mongolia
Mongolia is the second-largest landlocked country in the world. A sparse population over the vast land with more than 3 million inhabitants and livestock of 24 folds more living on the territory of 1.5 million km. It is a realm where animals are more than people. However, in this country, 28% of the population lives below the poverty line, and nearly half of Mongolians live in the capital, Ulaanbaatar. With urbanization and economic development, resources in remote areas and the poor could be said to be quite scarce.
TFCF Mongolia is dedicated to improving the lives of children and families facing challenges in Mongolia. TFCF Mongolia's service scope includes 9 districts, 6 towns, and 2 orphanages in Ulaanbaatar. Over the years, we have been committed to different and multiple dimensions to help disadvantaged families, such as financial support, medical service, education, housing, vocational skills training, etc. There are 11,000 children in approximately 3,380 families who accept our services now. Our programs focus on education, healthcare, social welfare, and community development, with the goal of creating a better future for vulnerable individuals. You can know more about TFCF Mongolia through Facebook: https://www.facebook.com/TFCF.Mongolia.Office
Our Programs and Initiatives
Through our programs and initiatives, TFCF Mongolia aims to address the unique needs of children and families in Mongolia. Our initiatives include:
Healthcare and Nutrition: Our programs focus on providing medical support, healthcare supplies, nutrition education, and access to essential healthcare services. According to statistics from the National Center for Maternal and Child Health, about 4,000 to 4,500 patients receive medical assistance each year, of which 25% suffer from cleft lip and palate diseases. Others include otolaryngology, urology, and ophthalmology. However, lacking medical resources in remote areas and undersupply in big cities result in many children are not lucky enough to have the opportunity to be treated, which affects their subsequent life and study. Therefore, we work to improve healthcare access and promote healthy living among vulnerable communities.
Education Support: We provide educational assistance and scholarships to ensure that children in Mongolia have access to quality education and the opportunity to pursue their dreams.
Social Welfare and Community Development: We support community-driven projects that empower families and communities, including income-generating activities, vocational training, and capacity-building initiatives.
How Does Your Donation Make a Difference?
Your donation directly supports our programs and initiatives, allowing us to expand our reach and impact more lives in Mongolia. With your contribution, we can provide educational opportunities, improve healthcare access, and empower communities to create positive change.
Donation Options
One-Time Donation: Make a one-time donation of any amount to support our programs and initiatives. Your contribution will have a lasting impact on the lives of vulnerable children and families in Mongolia.
Monthly Donation: Consider becoming a monthly donor and provide ongoing support to our programs. Monthly donations ensure sustained assistance and enable us to plan and implement long-term projects for community development.
Support Us Now!
Click the button to make a secure online donation and support our work in Mongolia. Your generosity will contribute to creating sustainable change and improving the lives of vulnerable children and families.
Thank you for your generosity and support. Your donation will help us continue our mission of providing essential support, education, and opportunities to children and families in Mongolia. If you have any questions or need further information, please don't hesitate to contact us by email: id@ccf.org.tw
More ways to make an impact